Thank you for visiting our web site. Perhaps information concerning the Sacraments, our Parish Ministries and/or Faith Formation/Spiritual Life is of immediate interest. Maybe you are you looking to join one of the Parish Social Organizations, or are just browsing. In any case, enjoy, and please contact us if we can be of any assistance.
Sacred Heart's Valentine Dinner & Dance, February 15:  Centennial Valentine Dinner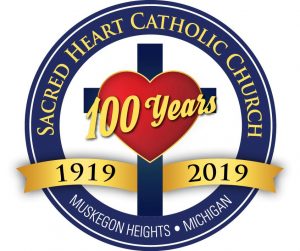 Bishop Walkowiak's letter to Sacred Heart Parishioners in celebration of our 100 years:  Bishop's Letter

Bishop Robert J. Rose's story…Sacred Heart's sixth Pastor

Fr. Henry J. Dondzila's story…Sacred Heart's fifth Pastor
Monsignor James Jendrasiak's story…Sacred Heart's fourth Pastor
Monsignor Albert A. Kehren's story…Sacred Heart's third Pastor
Fr. Joseph Francis Bocek's story…Sacred Heart's second Pastor
Monsignor John J. Sonefeld's story…Sacred Heart's first Administrator and Pastor.
Like us on Facebook!!  Invite your friends!!  Sacred Heart Church-Muskegon Heights, MI
Sacred Heart is 100 years old September 2019!  Everyone interested in being a part of this planning process is welcome!  Even if you cannot attend the meetings, call the office and let us know you want to help.  Meetings will be held throughout our Centennial year on the last Monday of the month at 6:00 p.m. in the Gathering Room.

Mass Schedule:  Saturday:  4:00 p.m.  Sunday:  11:00 a.m.
The Rosary is led by Knights of Columbus Holy Rosary Council #13579 at
3:30 p.m. Saturdays and 10:30 a.m. Sundays.
Daily Mass Schedule:  Thursdays & Fridays:  8:00 a.m.
Sacrament of Reconciliation:  Saturday 3:15 p.m. to 3:45 p.m.
Sacred Heart of Jesus
The Sacred Heart of Jesus is one of the most famous religious devotions to Jesus' physical heart as the representation of His divine love for Humanity. The origin of this devotion is derived from a French Roman Catholic nun, Marguerite Marie Alacoque, who said she learned the devotion from … (more…)