Thank you for visiting our web site. Perhaps information concerning the Sacraments, our Parish Ministries and/or Faith Formation/Spiritual Life is of immediate interest. Maybe you are you looking to join one of the Parish Social Organizations, or are just browsing. In any case, enjoy, and please contact us if we can be of any assistance.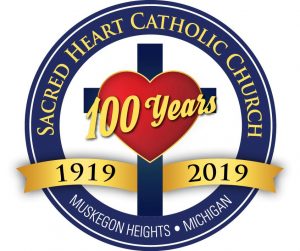 Sacred Heart will be 100 years old September 2019!  The next Centennial Celebration Meeting is Monday, October 29, at 6:00 p.m. in the school Gathering Room.  Everyone interested in being a part of this planning process is welcome!  Even if you cannot attend the meetings, call the office and let us know you want to help.  Click here for an update:  Sacred Heart Centennial

Sacred Heart's Autumn Dinner–Sunday, October 7, 2018 after 11:00 a.m. Mass.  Tickets are on sale after Masses on September 29/30 and in the office through October 3.  Adults $9.00/children 5-10 yrs. $5.00/Family (same household) $30.00.  Autumn Dinner Poster

October Warm Clothing Drive–Please begin bringing your clean, wearable, warm outerwear the weekend of October 6/7.  There will be boxes under the coat rack in the vestibule for hats, scarves, mittens, etc. and the coats/jackets can be hung on the coat rack.  Donations will be collected through November 4 and will benefit Mission for Area People.
Imagine it…Believe it…Our Volunteers Achieve it!  Volunteer Appreciation Lunch:  Sunday, October 21, 2108 after 11:00 a.m. Mass in the gym; pizza & snacks.  If you do anything for Sacred Heart Parish–you are a Volunteer!  Watch for sign-up sheets at church entrances soon.  Deadline:  Sunday, October 14.
Mass Schedule:  Saturday:  4:00 p.m.  Sunday:  11:00 a.m.
The Rosary is led by Knights of Columbus Holy Rosary Council #13579 at
3:30 p.m. Saturdays and 10:30 a.m. Sundays.
Daily Mass Schedule:  Thursdays & Fridays:  8:00 a.m.; FIRST FRIDAYS ONLY:  6:30 p.m. Adoration; 7:00 p.m. Mass
Sacrament of Reconciliation:  Saturday 3:15 p.m. to 3:45 p.m.
Sacred Heart of Jesus
The Sacred Heart of Jesus is one of the most famous religious devotions to Jesus' physical heart as the representation of His divine love for Humanity. The origin of this devotion is derived from a French Roman Catholic nun, Marguerite Marie Alacoque, who said she learned the devotion from … (more…)