Thank you for visiting our web site. Perhaps information concerning the Sacraments, our Parish Ministries and/or Faith Formation/Spiritual Life is of immediate interest. Maybe you are you looking to join one of the Parish Social Organizations, or are just browsing. In any case, enjoy, and please contact us if we can be of any assistance.

As of July 21st:

Masks are not required during liturgical worship; however, parishioners are welcome to wear masks for their own comfort and the safety of others if they choose.
There are sections at the back of the church, the Victor Miller room, and the choir loft for those who wish to practice social distancing.  Please be respectful of the safety and comfort of those around you.
Holy Water is available for use upon entry/exit of the church and for filling your own containers.
Bishop Walkowiak invites Catholics who are healthy and able to return to Mass to do so.  He extends the dispensation until further notice for those who are unable to attend Mass due to health or other excusable factors.  Read Bishop Walkowiak's letter to the Faithful.
Due to the vulnerable population served, unvaccinated ministers who bring holy Communion to the home-bound must wear a mask.  Other than this norm, the Diocese of Grand Rapids is terminating any remaining particular law in response to COVID-19, effective immediately.  This decision aligns with guidance from public health officials and is supported by the data mentioned above.  How each parish continues to keep its parishioners safe will be up to the pastor and his parish staff.
Diocesan updates 06/23/2021

USCCB statement regarding the use of COVID-19 vaccines

Mass Schedule:  Saturday:  4:00 p.m.;   Sunday:  11:00 a.m.  (Rosary led by Knights of Columbus at 10:30 a.m.)
Sacrament of Reconciliation:  Saturday:  3:00-3:45 p.m.
Daily Mass Schedule:  Friday:  8:00 a.m.

Sacred Heart's office hours are Monday-Thursday, from 9:00 a.m. to 3:30 p.m.; closed Friday.  The office entryway is open for pick-ups and deliveries during these hours. 


If your circumstances allow, please mail your contribution envelopes to Sacred Heart, 150 E. Summit Ave., Muskegon 49444; or drop them in our secured mail box just to the right of the outside office door.  Thank you!
Sacred Heart Parish Statement of Operations Year Ended June 30, 2020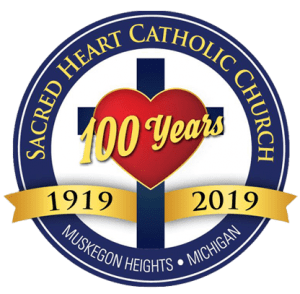 Sacred Heart–100 Years Old–September 1, 2020!
Sacred Heart of Jesus
The Sacred Heart of Jesus is one of the most famous religious devotions to Jesus' physical heart as the representation of His divine love for Humanity. The origin of this devotion is derived from a French Roman Catholic nun, Marguerite Marie Alacoque, who said she learned the devotion from … (more…)