Thank you for visiting our web site. Perhaps information concerning the Sacraments, our Parish Ministries and/or Faith Formation/Spiritual Life is of immediate interest. Maybe you are you looking to join one of the Parish Social Organizations, or are just browsing. In any case, enjoy, and please contact us if we can be of any assistance.
Sacred Heart Parish Statement of Operations Year Ended June 30, 2020
Letter from Bishop Walkowiak dated 10/05/20 extending the dispensation for all Catholics within the Diocese of Grand Rapids from their obligation of attending Sunday Mass through November 23.

Mass Schedule:  Saturday:  4:00 p.m.      Sunday:  11:00 a.m.  (Rosary led by Knights of Columbus at 10:30 a.m.)
Daily Mass Schedule:  Tuesday:  6:00 p.m. (Traditional Latin Mass)
Thursday & Friday:  8:00 a.m. 
Sacrament of Reconciliation:  Saturday:  3:00-3:45 p.m. in the Chapel

(6/24/20) The office is open to the public but with restricted access.  All parish activities are suspended.

CSA 2020 Update:  As of August 20, 122 Sacred Heart families (50%) have pledged $49,062.  Thank you!!  Sacred Heart's assessment to the Diocese is $34,931 so we have surpassed our assessment in pledges!  Once the $34,931 is paid, all monies received after come back to Sacred Heart, which we use to help pay our expenses. Thank you to all who have responded!
If you haven't turned in your pledge card, please do so as soon as possible by mailing to Sacred Heart, 150 E. Summit Ave., Muskegon 49444, or drop it in the secured mail box on the right of the outside office door (checks are to be made payable to Sacred Heart), or pledge online at grdiocese.org.
If your circumstances allow, please mail your contribution envelopes to Sacred Heart, 150 E. Summit Ave., Muskegon 49444; or drop them in our secured mail box just to the right of the outside office door.  Thank you!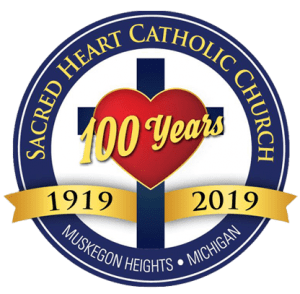 Sacred Heart–100 Years Old–September 1, 2020!
Sacred Heart of Jesus
The Sacred Heart of Jesus is one of the most famous religious devotions to Jesus' physical heart as the representation of His divine love for Humanity. The origin of this devotion is derived from a French Roman Catholic nun, Marguerite Marie Alacoque, who said she learned the devotion from … (more…)