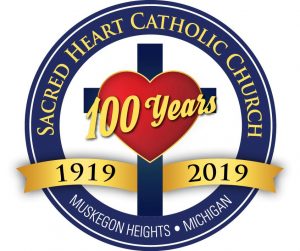 Sacred Heart is 100 years old September 2019!
Everyone interested in being a part of this planning process is welcome!  Even if you cannot attend the meetings, call the office and let us know you want to help.  Meetings will be held throughout our Centennial year on the last Monday of month at 6:00 p.m. in the Gathering Room.
The Immaculate Conception of the Blessed Virgin Mary, Mass at 5:30 p.m. on December 9th.  It is a Holy Day, however, non-obligatory.
Additional opportunities for the Sacrament of Reconciliation during Advent:  Sunday, December 15 and 22, from 12:15–1:00 p.m.
Monsignor James Jendrasiak's story…Sacred Heart fourth Pastor
Monsignor Albert A. Kehren's story…Sacred Heart's third Pastor
Fr. Joseph Francis Bocek's story…Sacred Heart's second Pastor.Monsignor John J. Sonefeld's story…Sacred Heart's first Administrator and Pastor.
Like us on Facebook!!  Invite your friends!!  Sacred Heart Church-Muskegon Heights, MI