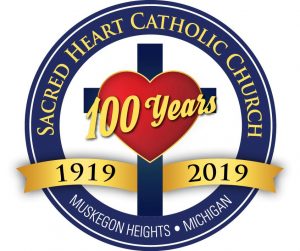 Sacred Heart is 100 years old September 2019!
Everyone interested in being a part of this planning process is welcome!  Even if you cannot attend the meetings, call the office and let us know you want to help.  Meetings will be held throughout 2019 on the last Monday of month at 6:00 p.m. in the Gathering Room.
All Saints/All Souls' Mass and Dinner November 1:  details

October Warm Clothing Drive, Brown Bag Distribution, Family Game Day, Kids' Food Basket:  October & November events
Fr. Joseph Francis Bocek's story…Sacred Heart's second Pastor.
Monsignor John J. Sonefeld's story…Sacred Heart's first Administrator and Pastor.
Like us on Facebook!!  Invite your friends!!  Sacred Heart Church-Muskegon Heights, MI