Our Shepherds – Our Future, Capital Campaign
Sunday, May 16: "Stewardship creates a spirituality that deepens our relationship with Jesus.  Stewardship involves  planned and proportionate giving of our time, talent and treasure.
Thank you to all of you who have made commitments to the Our Shepherds – Our Future Capital Campaign.  Thank you to all who have graciously given of their time, treasure and talents to this effort.  We appreciate everyone's involvement. Please be responsive to calls from our volunteers.  Please see the informative campaign insert in this week's bulletin and on the website.  We'll continue to work toward our goal.  We can do it!
Bulletin inserts: April 11, April 18, April 25, May 2, May 9
Learn-Lead-Leap: Enrollment is open for the 2021 Young Adult Leadership Institute
This five-month interactive formation experience is for young adults in their 20's and 30's who are looking for meaningful opportunities to live out their faith and values at work, with their family and friends, and in the world.
     Learn: Discover your own strengths and explore your relationship with God and essential role in the Church.
     Lead: Develop essential leadership skills that are necessary in our complex world.
     Leap: Guided by Catholic principles, discern where and how God is calling you to lead
The Institute begins on May 25 and runs through August 28. For a detailed timeline and to get registered, visit https://www.catholicinformationcenter.org/yali/ or call the Catholic Information Center at (616) 459-7267.
Sacred Heart Parish Statement of Operations Year Ended June 30, 2020
Mass Schedule:  Saturday:  4:00 p.m.      Sunday:  11:00 a.m.  (Rosary led by Knights of Columbus at 10:30 a.m.)
Daily Mass Schedule:  *Daily Masses are suspended until further notice.*
Sacrament of Reconciliation:  Saturday:  3:00-3:30 p.m. in the Chapel
The Parish Office is open but with restricted access.  All parish activities are suspended.
If your circumstances allow, please mail your contribution envelopes to Sacred Heart, 150 E. Summit Ave., Muskegon 49444; or drop them in our secured mail box just to the right of the outside office door.  Thank you!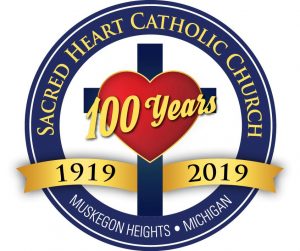 Sacred Heart is 100 years old September 2019!
Fr. Antony Britto's story…Sacred Heart's thirteenth pastor
Fr. Thomas J. Brown's story…Sacred Heart's twelfth pastor
Fr. Mark Bauer & Fr. Jim Wyse's story…Sacred Heart's tenth & eleventh pastors
Fr. Charles Dautremont's story…Sacred Heart's eighth Pastor
Fr. Lou Anderson's story…Sacred Heart's seventh Pastor
Bishop Robert J. Rose's story…Sacred Heart's sixth Pastor
Fr. Henry J. Dondzila's story…Sacred Heart's fifth Pastor
Monsignor James Jendrasiak's story…Sacred Heart fourth Pastor
Monsignor Albert A. Kehren's story…Sacred Heart's third Pastor
Fr. Joseph Francis Bocek's story…Sacred Heart's second Pastor.
Monsignor John J. Sonefeld's story…Sacred Heart's first Administrator and Pastor.
Like us on Facebook!!  Invite your friends!!  Sacred Heart Church-Muskegon Heights, MI